Nächste Vorstellungen: 1. – 3. August 2023
Putsch
Ein interaktives Theaterspiel 
Stell dir vor, du machst ein (fast) echtes Praktikum in einem (nicht ganz so) echten Betrieb. Du sortierst Unterlagen, kochst Kaffee, neben dir wird getippt, gerechnet, telefoniert. Alles ist für dich neu, aber du gibst dir die größte Mühe. Mit einem Berg an Zetteln gehst du zum Kopierer. Interessant, das macht man alles noch analog? Braucht man all diese Kopien? Jemand ruft dich, aber da ist niemand. Irgendwo ganz tief in dir drin hörst du diese Stimme. Ganz leise, aber sehr bestimmt. »Weißt du es nicht eigentlich besser?«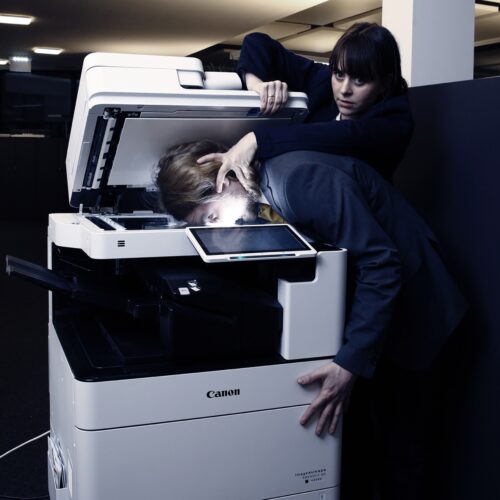 »Putsch« ist ein interaktives Theaterspiel, bei dem das Publikum aktiv als Mitspieler:in teilnimmt und als fiktive Praktikant:in in einen etwas schrägen Büroalltag eintaucht. In der Performance trifft Individualität auf Konformität – und bietet die Möglichkeit, einmal im Leben gegen die Unternehmensregeln aufzubegehren. Magie ist zwischen Akten und Topfpflanzen zu entdecken. Auch der Spielort dieses Projekts ist ein besonderer und ungewöhnlicher: Das Amt der Oö. Landesregierung wird zur Bühne, wo diesem fiktiven Theatergame Platz geboten wird. Die Geschichten erzählen sich wie von Zauberhand, die Teilnehmenden machen ganz eigene, individuelle Erfahrungen in den zwei Stunden. Denn die Schnupperpraktikant:innen sehen die Bürowelt ganz unbelastet und mit neuen Augen – vielleicht verstehen sie noch nicht, warum alles so funktioniert, wie es funktioniert. Aber dass es besser sein könnte, daran dürfen (und müssen) sie glauben.
Bereits mit den Vorgänger-Produktionen »Part of the Game Game« und »Spaze Maze Game« machte die Grazer Gruppe »Das Planetenparty Prinzip« von sich reden. 2020 wurden »die Planeten« mit dem Sonderpreis des Vorstands der ASSITEJ Austria ausgezeichnet.
Linz:

Treffpunkt:
Vorplatz Kammerspiele, Landestheater Linz
Spielort:
Direktion Kultur und Gesellschaft Promenade 37, 4021 Linz
Graz:
Spielort:
ENW Gemeinnützige Wohnungsgesellschaft
Theodor-Körner-Straße 120, 8010 Graz
15. Juni 2023
Linz:

15.06, 14:00
16.06, 09:30
19.06, 09:30 / 14:00
20.06, 09:30 / 14:00
21.06, 09:30
22.06, 09:30 / 14:00
23.06, 09:30
Graz:
01.08., 10:00 / 14:00
02.08., 10:00 / 14:00
03.08., 10:00 / 14:00
Landestheater
Linz
Schäxpir Festival Linz
La Strada Graz
Play On!
Landestheater
Linz
Kofinanziert durch das Programm Kreatives Europa der Europäischen Union
Regie:

Simon Windisch
Konzept und Entwicklung:
Leonie Bramberger
Moritz Ostanek
Simon Windisch
Bühne und Kostüm:
Andrea Meschik
Musik:
Robert Lepenik
Hardware-, Audio- und Netzwerktechnik:
Stefan Bauer
Max Ederer
Thomas Baumgartner
Software Entwicklung:
Michael Faschinger
Dramaturgie:
Christine Härter
Nele Neitzke
Coaching:
Victoria Fux
Produktionsleitung:
Nora Köhler
Produktionsassistenz:
Marlen Weingartmann
Isabella Campestrini
Alexander Köfner
Leo Plankensteiner
Nora Winkler
Azlea Wriessnig